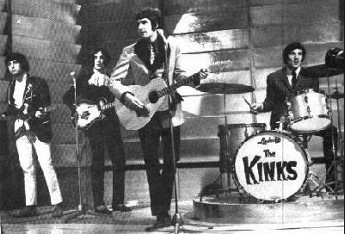 24/10/2014

Quali sono i RIFF DI CHITARRA più belli della storia della musica?
Dopo quella delle 100 canzone d'amore più belle, il direttore Andrea Marsiletti, a suo insindacabile giudizio, stilerà anche questa classifica (clicca qui).
Ma esattamente cosa si intende per "riff"? Il riff è una frase musicale (ossia una successione di note con una propria identità espressiva) che si ripete frequentemente all'interno di una canzone e che viene utilizzato di solito come accompagnamento.
Un esempio di riff nella musica rock è dato dall'introduzione di chitarra dei Deep Purple in "Smoke on the water", tanto per intenderci.
Il riff differisce, quindi, dall'assolo, che è una breve esecuzione solistica, senza ripetizione e a volte con virtuosismi.
___



Posizione in classifica: 35
Nome canzone: You Really Got Me
Autore: The Kinks
Anno: 1964

"You Really Got Me" è un brano musicale del gruppo rock britannico The Kinks, scritto dal leader della band Ray Davies ed incluso nell'album Kinks (1964).
Pubblicata come terzo singolo del gruppo nell'agosto del 1964, raggiunse il primo posto delle classifiche inglesi il mese dopo per rimanerci 2 settimane. Costruita sul powerchord, non solo fu la hit di svolta per la band ma diventò anche un brano simbolo della British invasion.
You Really Got Me influenzerà pesantemente i musicisti rock contemporanei, in particolare quelli punk rock. Questo infatti venne riconosciuto come uno dei primi prototipi di brano punk rock.
Nel 1999, You Really Got Me è stata introdotta nella Grammy Hall of Fame.
La rivista Rolling Stone inserì la canzone alla posizione numero 82 nella lista delle 500 migliori canzoni di sempre da loro redatta, e alla quarta nella lista delle "100 Greatest Guitar Songs of All Time".
Per suggerimenti, valutazioni e critiche clicca qui!


CLASSIFICA TOP 100 RIFF DI CHITARRA
(a cura di Andrea Marsiletti)

… coming soon…
36. Highway to hell (AC/DC)
37. Born to be wild (Steppenwolf)
38. Money (Pink Floyd)
39. Walk this way (Aerosmith)
40. Money for nothing (Dire Straits)
41 Far form over (Frank Stallone)
42. Eye of the tiger (Survivor)
43. Back in black (Ac Dc)
44. Should I Stay or Should I Go (The Clash)
45. The Rover (Led Zeppelin)
46. Sugar Kane (Sonic Youth)
47. Brown Sugar (Rolling Stones)
48. God save the Queen (Sex Pistols)
49. Immigrant song (Led Zeppelin)
50. "The fly (U2)
51. Foxy Lady (Jimi Hendrix)
52. Holy Diver (Dio)
53. American Woman (The Guess Who)
54. Bring it on home (Led Zeppelin)
55. Sweet home Alabama (Lynyrd Skynyrd)
56. Feel the pain (Dinosaur jr)
57. Love me two times (The Doors)
58. Panama (Van Halen)
59. Seven Nation Army (White Stripes)
60. Cinnamon Girl (Neil Young)
61. Electric Eye (Judas Priest)
62. Hysteria (Muse)
63. Master of puppets (Metallica)
64. When the Levee Breaks (Led Zeppelin)
65. Pardise City (Guns N' roses)
66. Pinball Wizard (The Who)
67. Under the bridge (Red Hot Chili Peppers)
68. Moby Dick (Led Zeppellin)
69. Runnin' with the devil (Van Halen)
70. Frankenstein (Edgar Winter Group)
71. Whipping Post (Allman Brothers Band)
72. Man on the silver mountain (Rainbow)
73. (Don't Fear)The Reaper (Blue Oyster Cult)
74. Outshined (Soundgarden)
75. Start me up (Rolling Stones)
76. Five minutes alone (Pantera)
77. Life in the fast lane (Eagles)
78. Wipeout (Surfaris)
79. I feel fine (The Beatles)
80. Hallowed Be Thy Name (Iron Maiden)
81. Sharp Dressed Man (ZZ Top)
82. Up arounf the bend (Creedence Clearwater Revival)
83. Moby Dick (Led Zeppelin)
84. Paradise City (Guns N' Roses)
85. Princess of the night (Saxon)
86. This charming man (The Smiths)
87. Are you gonna go my way (Lenny Kravitz)
88. Wake up little Susie (Everly Brothers)
89. N.I.B. (Black Sabbath)
90. Rusty cage (Soundgarden)
91. The trooper (Iron Maiden)
92. Bulls on parade (Rage against the machine)
93. Rockin' in the free word (Neil Young)
94. Hysteria (Muse)
95. Stranglehold (Ted Nugent)
96. School days (Chuck Berry)
97. You shook me all night long (AC DC)
98. Raining Blood (Slayer)
99. Taxman (The Beatles)
100. Ace of Spaces (Motorhead)